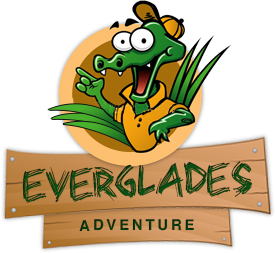 Now that you've explored Estero Bay, it's time for another adventure. Join our sister company Everglades Adventures and venture into the most famous swampland in the world, The Florida Everglades. Join the professional, educated and fun tour guides of Everglades Adventure as they take you on a full day of discovery deep into the River of Grass.
First, Everglades Adventures departs from the Fort Myers Beach area and will shuttle you comfortably into the heart of the Everglades. Enjoy the sights as your guide provides you with all of the information you'll need before you step into the swamp.
Your first taste of the Everglades starts with a bang! Hop aboard an airboat and glide across the top of the saw grass river. Airboats are currently the most popular means of transportation when exploring the Everglades, though there is a lengthy history of different watercraft being used to traverse the wild landscape. From the airboat, you will most likely get your first glimpses of wildlife that call the Everglades home. Alligators, birds, fish, turtles—oh my!
Next, move from being directly on the water to towering above the landscape. Enjoy a slow paced swamp buggy nature ride and learn about Everglades history, ethnobotany- medicinal uses of Everglades plant life by the Natives. This area is home to black bear, whitetail deer, raccoons, alligators, and much more. Have your camera ready as we stop for wildlife along the way and we never know what to expect.
Take a break to refuel with your tour group at the local Everglades eatery, The Oyster House. Sit at a waterfront table and consider your meal as yet another adventure to embark upon. The flavors of Southwest Florida are especially unique to the area, don't miss your chance to take a chance on a few local delicacies, including alligator and frog legs– you are on an adventure after all.
The grand finale of the trip will be one you won't soon forget. After a short drive, you will arrive for the animal encounter. Get up close and even hold and touch alligators, tortoises, snakes and birds hang out in the mini zoo on premises. The skilled and knowledgeable staff will be with you, explaining anything and everything about these native and exotic creatures. You'll end up with photos and memories you won't soon forget.
If you would like to reserve your Everglades Adventure after you've explored Fort Myers Beach, please feel free to reach out to our Good Time Charter staff or give Everglades Adventure a call directly at (239) 405-2060 www.evergladesadventure.com.