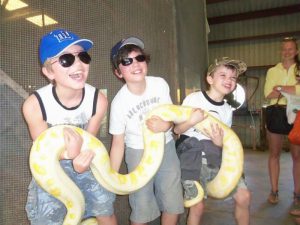 Get the kids away from the screens and into the swamp!
Spring break is quickly approaching and there is no better time to get out of the house and get into the Glades for an adventure. Too often, it's easier to stay at home playing with electronic devices than to get out and explore our very own backyard. Plan to spend a day with the kids and enjoy a full day in at one of our planet's greatest natural wonders, The Florida Everglades. It can do wonders for your children!
It is a hard reality to face, but the nature of childhood has changed, there isn't much nature included!
"Studies show outdoor time helps children grow lean and strong, enhances imaginations and attention spans, decreases aggression, and boosts classroom performance. In addition, children who spend time in nature regularly are shown to become better stewards of the environment." – The National Wildlife Foundation
Fast Facts About Outdoor Time and Children
Children are spending half as much time outdoors as they did 20 years ago. (Juster et al 2004); (Burdette & Whitaker 2005); (Kuo & Sullivan 2001)
Today, kids 8-18 years old devote an average of 7 hours and 38 minutes using entertainment media in a typical day (more than 53 hours a week). (Kaiser Family Foundation)
The most direct route to caring for the environment as an adult is participating in "wild nature activities" before the age of 11. (Wells and Lekies, 2006)
With facts like that, it's about time to get the kids outside on an adventure!
Allow us to pick your entire family up for a day of chartered and guided fun into the Swamp—after all it is the best time of the year to visit our National Park. Cooler temperatures mean better chances to spot all kinds of wildlife. Need help convincing the kids? A hands on animal encounter, heart racing airboat and swamp buggy ride and a meal at legendary local hangout The Oyster House are not only fun, but really great photo opportunities that are sure to set their social media accounts ablaze.
We're sure the kids will have a blast and you'll all create memories that will last a lifetime. It's not uncommon that after one tour, your kids will be begging to join us again, or even go on another adventure outdoors!