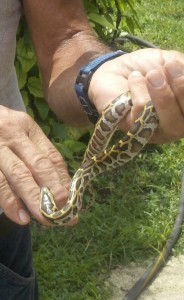 Howdy, Friends!
Do you remember what I told you a few weeks ago about some buns in the oven over at the Skunk Ape Research Center? Well, guess what? The baby Burmese pythons are here!
And wouldn't you know it, one of the tour groups for the full day tour was there the very moment those little buggers started slitting open their eggs with their egg tooth—a special tooth on the tip of their snouts that cuts open the leathery shell so they can make their debut in the world! Man, you want to talk about a special day! You just never know what you're gonna see when you come out on your Everglades Adventure.
Now those babies are a few days old and feisty as all get out. They're about a foot long (these Burmese pythons are even BORN big!) and just as pretty as their mama. We took a few pictures so you could see the little snapping bundles of joy.
Hope to see you soon!