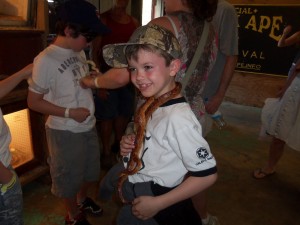 Happy Mardi Gras, Adventurers! We celebrate Fat Tuesday down here in the Glades, too, and I have a belly full of blue crabs and Rosie Spoonbill put a strand of sparkly purple beads around my neck.  I'm trying to get this blog writ before the parade starts!  Wait…do I hear zydeco music?!  That's my favorite! Unlike our alligator cousins down in the Louisiana bayou, we don't stop celebrating Out Here.  We also have a Fat Wednesday, Fat Thursday, Fat Friday, Fat Saturday, and Fat Monday.  Sunday is Nap Sunday, which is a different kinda celebratin' altogether, and not one you hear about all that much.  Maybe one day when I'm not in such a rush to get my blog posted on my swamputer, I'll tell ya all about it.
It's easier for us to celebrate out here in the Glades 'cause we're protected, see, and officially designated as the State Reptile, which makes us ambassadors.  We love our Glades, and we are tickled that so many folks are coming out to see us on the Everglades express tours and the full day Everglades adventures.
Well, friend, my toes are just a-tappin' to that scratchy washboard beat, and this gator's gotta dance.  There is a cute little 7-footer who caught my attention the other day, and I'm hoping I might catch hers at this here parade.  I may have me a dance partner after all!
Til then, gator friend!