Everglades National Park has been voted #1 by the Recreational Boating & Fishing Foundation (RBFF) for the second year in a row!
It will come as no surprise to many of you that The Everglades National Park was once again voted #1 out of 100 family-friendly places to fish and boat across the United States. Voters took a variety of elements into consideration when making a decision including accessibility, family-friendliness and great fishing.
Check out how the rest of the country fa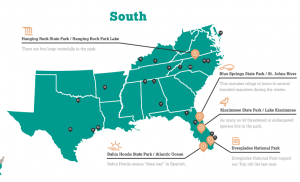 red, with Florida taking all four of the top spots.
Many have discovered what we here at Everglades Adventure have known for quite some time: that the Everglades is THE place to be for family fun and sporting activity. Our tours take you into the Everglades area and we are proud to be part of the great educational and conserving element of South Florida. Our added convenience of picking you up in our comfortable tour bus and whisking you from Fort Myers Beach to the Everglades will prove to be an adventure of a lifetime. With all kinds of wildlife at hand for you to view and some to touch we offer not only education but a thrill a minute in airboat and swamp buggy rides. And of course alligators are guaranteed!
Our experienced tour guides will point out any marine life, including fish that we may come across. If you are interested in a fishing tour, consider booking a private fishing charter with our sister company Good Time Charters that will take you through the fish-filled waters of Fort Myers Beach and Southwest Florida.
We are happy that the Everglades National Park has been honored with this status and hope that you will find your way to us for a fun Everglades experience!