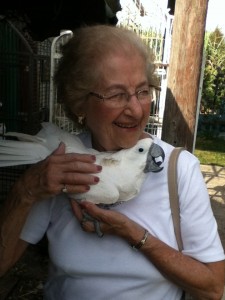 Hey, there!  We've been having a heck of a good time out here as always, and I wanted to show you a picture of what happiness looks like, just in case you ain't never seen it before!  Everybody in the world ought to have a moment like our good friend Dodo the Cockatoo had last week when a wonderful woman from Michigan came out to see him on the Everglades Tour.
Well, wouldn't you know that ol' Dodo gets his fair share of children and regular adults, but he hardly ever gets to be cuddled up by a woman as sweet as Miss Hilda here.  She came out to the Everglades at 89 years old, and she had a blast!  But it wasn't until she put Dodo in her arms that she realized how much she loved cockatoos!
And you can see from the picture that Dodo happens to love sweet old ladies from Michigan, too!  These two were inseparable for the little bit of time they got to spend together, and it just goes to show that you never know what you might discover about yourself when you come to the glades—no matter what age you are!
Hope to see you soon, gator friends.