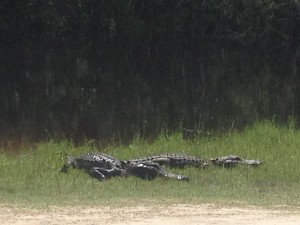 Hello there, Adventurers!
As my mama says, it's hotter here than the devil's frying pan! But you know what? Our loyal visitors from some far off places called North Dakota and Manitoba (which is a hard word to say when you don't have any lips, I might add) sure have been forging ahead and having a good old time out here in the Everglades.
We are happy to report that there have been quite a few sightings of some of our bigger gators out on the nature drive and also hanging around at Corey Billie's Airboat Rides. In fact, when our friends from Manitoba sat on the edge of their seats in front of the open van door during the nature drive, they looked so curious to an 12-foot alligator that he slid into the water and swam over to get a better look! You can imagine they won't forget their Everglades Adventure! It's not every day that you get to see a 60-year-old reptile swimming to the riverbank to put an eyeball on ya! They got some great photographs, and that gator now has proof that there are humans called Canadians.
Well, ol'Gator Gil has to visit some family over on the Miami side of the 'glades for our yearly reunion around Shark River. I'll be back in a few weeks to fill you in on more neighborhood gossip.
Til then, gator friends!