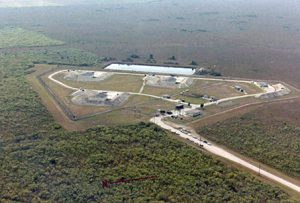 Image Credit: NPS.com (Aerial View of Nike Missile Base)
As your experienced guide leads you from place to place during your Everglades Adventure, you never truly know what will be waiting behind the next Cyprus tree, palm frond or bushel of saw grass. That is the true beauty of our tour; each expedition is a unique experience that is full of surprises, even for our staff.
Much like the surprises that are waiting for you and your family, there are a number of surprising facts about the Florida Everglades you may not know. Take a peek at our list of most extraordinary facts about the Everglades and you'll be more than prepared for whatever may be waiting for you in the swamp….
The Florida Everglades are the only place on the planet where crocodiles and alligators live together.
The time it takes for the native wood stork to grab a fish and take it in its beak once is it detected is one of the quickest in the animal kingdom.
The Everglades is considered the slowest moving river in the world.
During the Cuban Missile Crisis of the 1960s, the southern portion of Florida, including the Everglades became home to missile shelters scattered from Miami and into the Everglades.
The extremely rare Ghost Orchid blooms is in the Fakahatchee Strand, on the northern boundary of Everglades National Park.
The busiest time of year to visit the park is from December to March. This is the driest time of the year and it is also the coolest time of the year. This makes touring more comfortable. Plus, there are fewer mosquitos.
The Everglades town of Ochopee is home to the world's smallest Post Office—a building that is just 7 x 8-feet.
Oil was found in the park in 1946 but because of limited technologies could not be extracted. Those who discovered the oil gave the land to the Government, which then became part of the park.