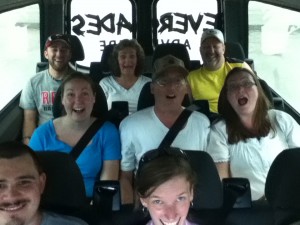 Adventurers!  Get yourselves on an Everglades tour and come see us.  We've been having excitements galore lately, and I can't wait to tell you about 'em.
First, after four years of searching and a-hopin' and prayin, the Everglades Adventure team FINALLY saw some wild Florida panthers—a mama and her kitten—on the Turner River Road.  That makes three total in four years, which ain't too shabby!  There wasn't time to capture the moment on camera, but here's a picture of the folks who were on the tour who got to see them!  Look how happy they are!  What an amazing day in the glades.
Folks have also been seeing gators wallowing in the small pools by the Turner River, splashing around and having a good ol'time, and believe it or not, yesterday the group saw a North American CROCODILE in the big pond by Wooten's.   With all the rain we've been getting lately, it was hard to believe our toothy cousin would come this far in the fresh water, but us crocodilians sure know how to adapt and survive and we can just about lay up anywhere there's some water.  You might want to get down here quick before he decides to go back south.
I mean to tell you, it's been exciting!
Til next time!  See you then, gator friend.