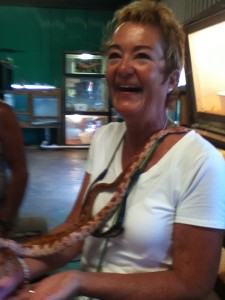 Howdy Adventurers!
Boy, do I owe y'all an apology! Ol'Gator Gil got caught up in courtship season, if you know what I mean, and I haven't even thought one bit about my little news blog here until Greta the Great Blue Heron flapped by to tell me that the Good Times Charter and Everglades Adventure crew is welcoming a brand new member!  So, welcome to the family, Maureen "Mo Gator" Goranson!   We snapped this picture of her picking up two new Everglades-style friends last week!
We're at the end of the dry season here, folks, and our spring don't last but about twenty minutes, so it's gotten hot and humid, just like we like it.  What that means is you need to remember to drink plenty of water when you come out with us so you don't get all woozy and cranky with a headache.  Folks have been seeing lots of cool wildlife lately—including a few teenage gators crossing the road, white tail deer, and guess what?  Panther tracks!  A few lucky groups even got to see the soft-shelled turtle out of the water to lay eggs.  That's pretty spectacular considering our softies are real shy folks and spend most of their life in the water.
Greta GBH also tells me folks are having a ball down at the Skunk Ape Research Headquarters with the interactive animal exhibit holding the pythons and anaconda and little gator—who, honestly, ain't so little anymore.  They're 'bout to have to change his name from Little Grunt to just Grunt.
Adventurers, I promise I will try to do better about keeping you up to date now that my sanity has returned and I'm not fighting every neighbor, cousin, uncle, and outsider from the Miami side for the love of Sally Jo, the fairest gator I ever seen.   Anyway, y'all come see us!
Til then, gator friend!