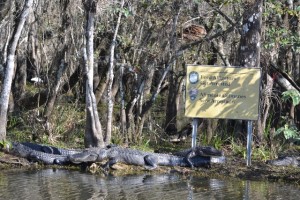 Hello, Adventurers!
Out here in the swamp, we're celebrating the holidays—and we're as happy as turtles on a river log 'cause Greta the Great Blue Heron flew in this morning with a big piece of news.  We hear 2013 is going to be the Year of the Snake!  That's good news for us, 'cause we have more than our fair share of those guys to show you out here in the Glades.
We also tickled to death that it's cooled down enough for us gator families to start congregating out in the open again (see that great picture of my aunts and cousins taken by a nice fellow named Dick DeCosta From Canada when he came out here on his tour), and most folks don't know that we gators are social creatures, and we do like to lay up on each other while we're out getting our daily dose of sun warmth.  You can see my cousin Smiles right there with her head on Aunt Toothy's tail.  Very cute. But remember, like the sign says:  Don't Feed Alligators!
We hope to see y'all real soon when you come out for your full day adventure.
Til then, gator friend!