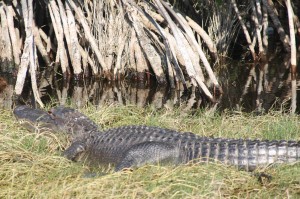 Howdy, Adventuristas and Adventurinos!
Hope you all have been doing well and are loving this sunny weather!  We sure are.  Life is good out here in the Everglades, and we've been seeing so many fun people from all over the United States and Canada, and even some kinda folk called a "snowbird."  Right now we're getting on to the end of the dry season—just another month—and so the water is looooooow out here right now.  All I can tell ya is that when you come out for your airboat ride, don't wear your pretty white pants or fancy white shirt!
Well you all know it's alligator mating season right now, and that means we gators are all outta sorts trying to get our youngun's squared away and ready to be hatched in the summertime.   Well, my uncle Deward B. Gator has been resting out in the Gator Lake at Corey Billie's Airboat Rides, and yesterday Captain Leebo was showing some visitors from a place called England my uncle there.  Well, Deward ain't a gator of many words, he's more of an action male, and he went to fussing and hissing and thrashing so much that ol'Leebo about hollered "Mercy!" and that lady from England climbed up in his captain's chair and said a word or two I'm not going to repeat!  It was an exciting ride, believe me.
Wouldn't you know Captain Leebo kept his distance next time around and Uncle Deward found his hidey hole and crawled into for the rest of the afternoon.  So, no matter what, Adventurers, stay in the boat!  You never know what kinda mood that Deward is going to be in.
Happy trails, gator friends!  Til next time!