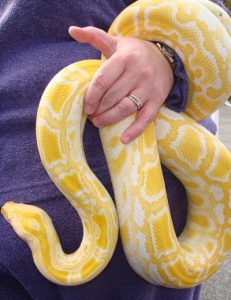 We love teaching friends, new and old alike, new things about our diversely wonderful ecosystems and all the critters that live within when we go off on one of our amazing tours through the Everglades.
We make a number of amazing stops, learn more about them here! A favorite among guests of all ages is the interactive animal experience. After enjoying lunch we make a leisurely stop to make few new friends. Get up close and personal with snakes, gators and birds at the Skunk Ape Research Center located at the Trail lakes Campground in Ochopee, Florida. You may have a lot of curiosity about the skunk ape, for which you can explore and ask questions while we are there. The bigfoot of the Everglades has kept natives and visitors captivated for decades.
Around the back of the main building is where we find ourselves with our tour goers, and where the magical moments between humans and nature are captured. Alligators, tortoises, snakes and birds hang out in the mini zoo on premises. The skilled and knowledgeable staff will be with you, explaining anything and everything about these native and exotic creatures. Anyone willing to can hold an alligator or albino python, and enjoy some time getting to know the parrots and macaws that grace the premises with their feathered beauty.
We encourage you to take this opportunity to gets hands on with the animals, they truly are all magnificent creatures. It's a blast enjoyed by all, and we'll capture your handsy moments on camera for a framable memory you'll cherish forever.